Once devastated by a triple disaster of earthquake, tsunami and nuclear accident, the northeastern coastline of Japan today is now a landscape transformed by reconstruction and innovation.
A drive along the coast provides vistas of recovery
Smooth new highways and roads connect communities rebuilt upland away from the ocean. Pristine buildings stand in orderly rows by spick-and-span stations along a restored railway. Near the shoreline, sturdy sea walls and newly planted groves form green buffers to block any future tsunami. Hyper-modern tractors can be spotted working large-scale plots of farmland. In reopened fishing ports, gleaming white boats bob by spotless quays. Wind turbines dot the horizon. And all along the coast, countless solar power panels carpet fields once overwhelmed by a raging ocean, generating new energy.
The state of reconstruction
These sights are particularly astounding when set against the facts of devastation wrought by the Great East Japan Earthquake of March 11, 2011.
The fourth-largest earthquake in recorded history triggered tsunamis, in some spots over 8 metres high, sweeping several kilometres inland in numerous places. Approximately 20,000 people lost their lives and over 470,000 peoples were evacuated. Hundreds of thousands of buildings were destroyed and damaged, with infrastructure and lifelines sustaining severe destruction. The tsunami also triggered a nuclear accident at the Fukushima Daiichi nuclear power plant, leading to radiological contamination and evacuation in surrounding areas. Total costs are estimated to top $235bn, making it the costliest natural disaster in world history.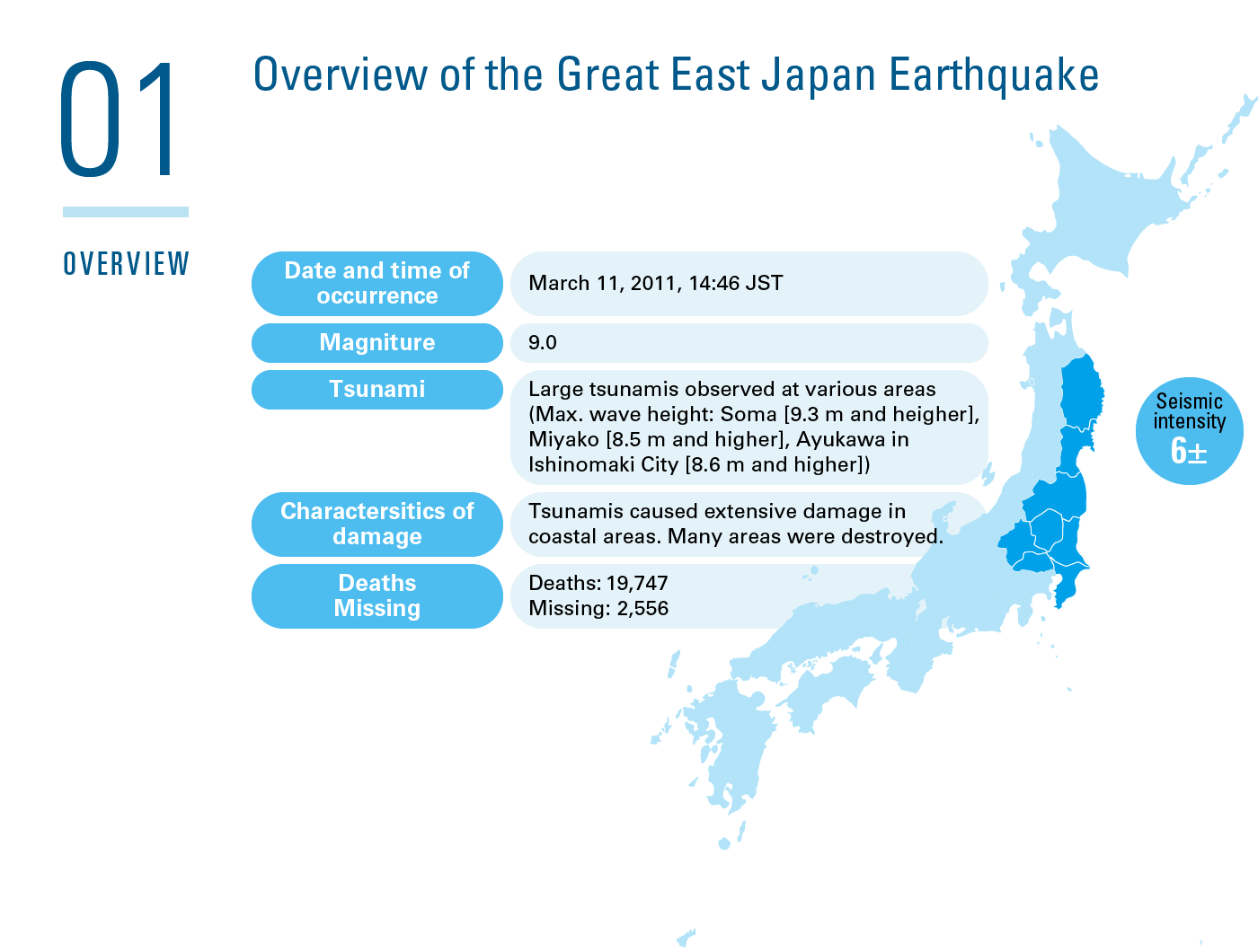 Since then, the statistics speak of remarkable progress in reconstruction.
Whole towns and cities have been rebuilt, with 48,000 new housing units built for those affected by the disaster, including the relocation of whole communities to higher ground. As of 2021, 541km, or 95 per cent of planned length of roads, have been newly built. The main roads and railroads servicing communities along the coast are nearly fully re-opened. Industry, too, has recovered to above pre-disaster levels. The value of manufactured products in the three prefectures of Fukushima, Iwate, and Miyagi are some 15 per cent higher in 2019 than in 2010. Farming and fishing have also resumed operations, including 94 per cent of farmland affected by the tsunami and 98 per cent of seafood processing facilities.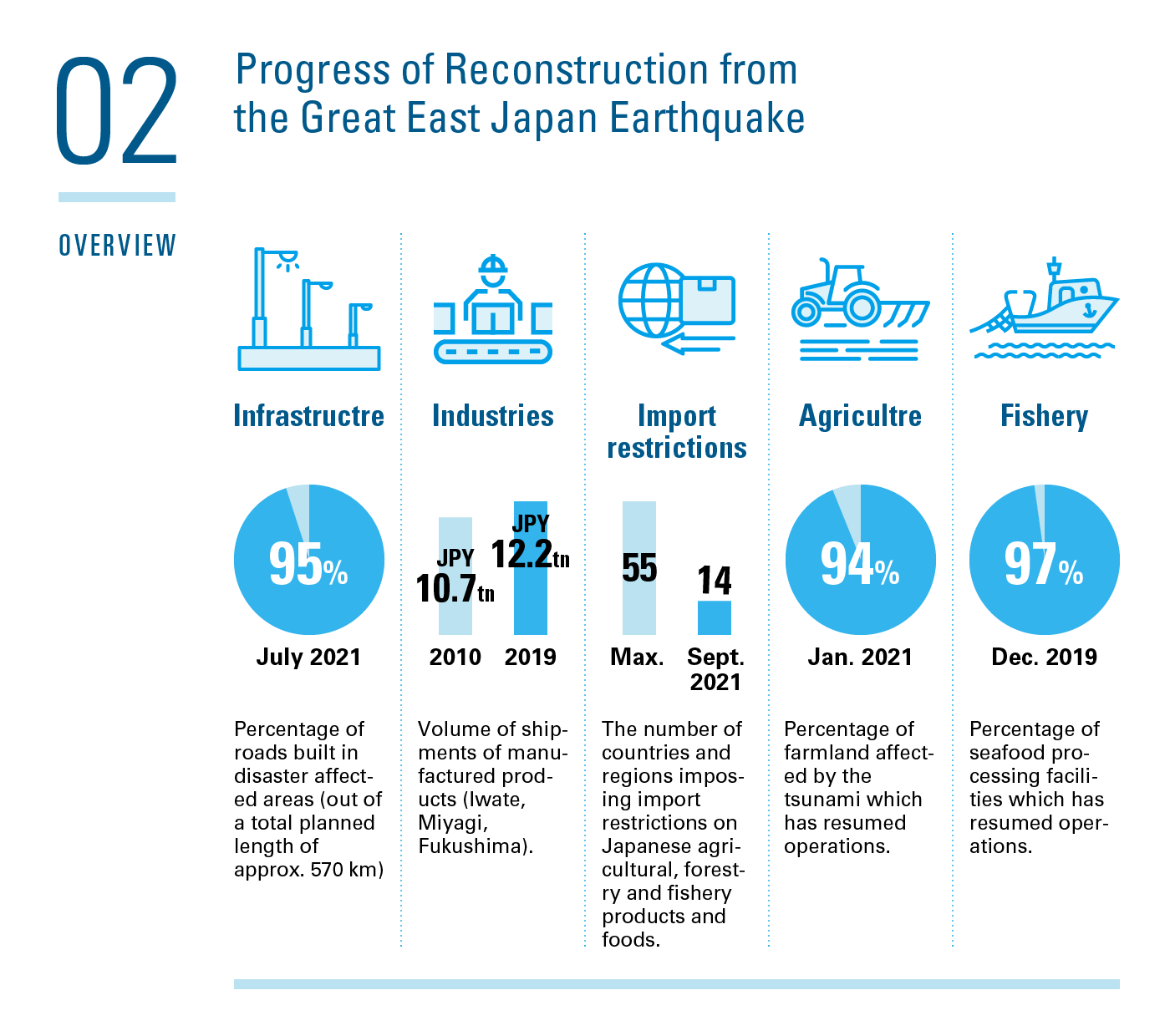 Millions of cubic tonnes of soil and material contaminated by fallout from the nuclear accident have been successfully removed. Today, air dose rates of radioactivity in Fukushima are at the same level as those in major cities in the world, including London, Paris, New York, Hong Kong and Seoul. The shift from nuclear to renewable energy is progressing too. Last year, Fukushima became the top prefecture for solar-power generation in the country, generating 43.4 per cent of all energy consumed in the prefecture from renewables, a figure nearly double that of a decade before.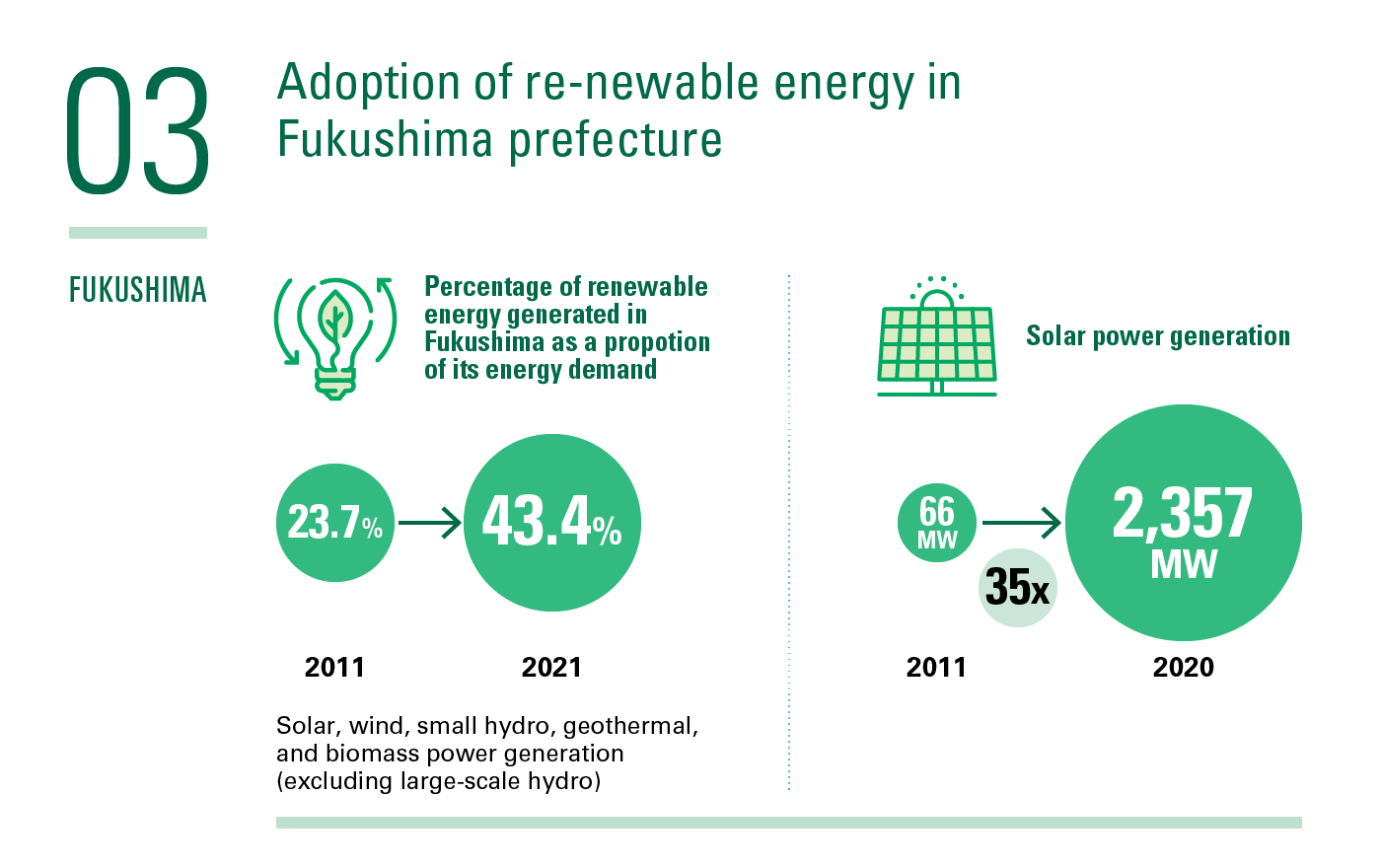 Of course, reconstruction is not complete. The vital task of fully decommissioning the Fukushima Daiichi nuclear power plant remains. These include the unprecedented challenges of fuel removal, fuel debris retrieval and the management of contaminated water. And though most of the evacuees from the disaster have returned to their communities, some 40,000 people from across northeastern Japan are unable to do so. A majority of these are from Fukushima where some 2.4 per cent of the prefecture's land remains restricted areas due to unfinished decontamination.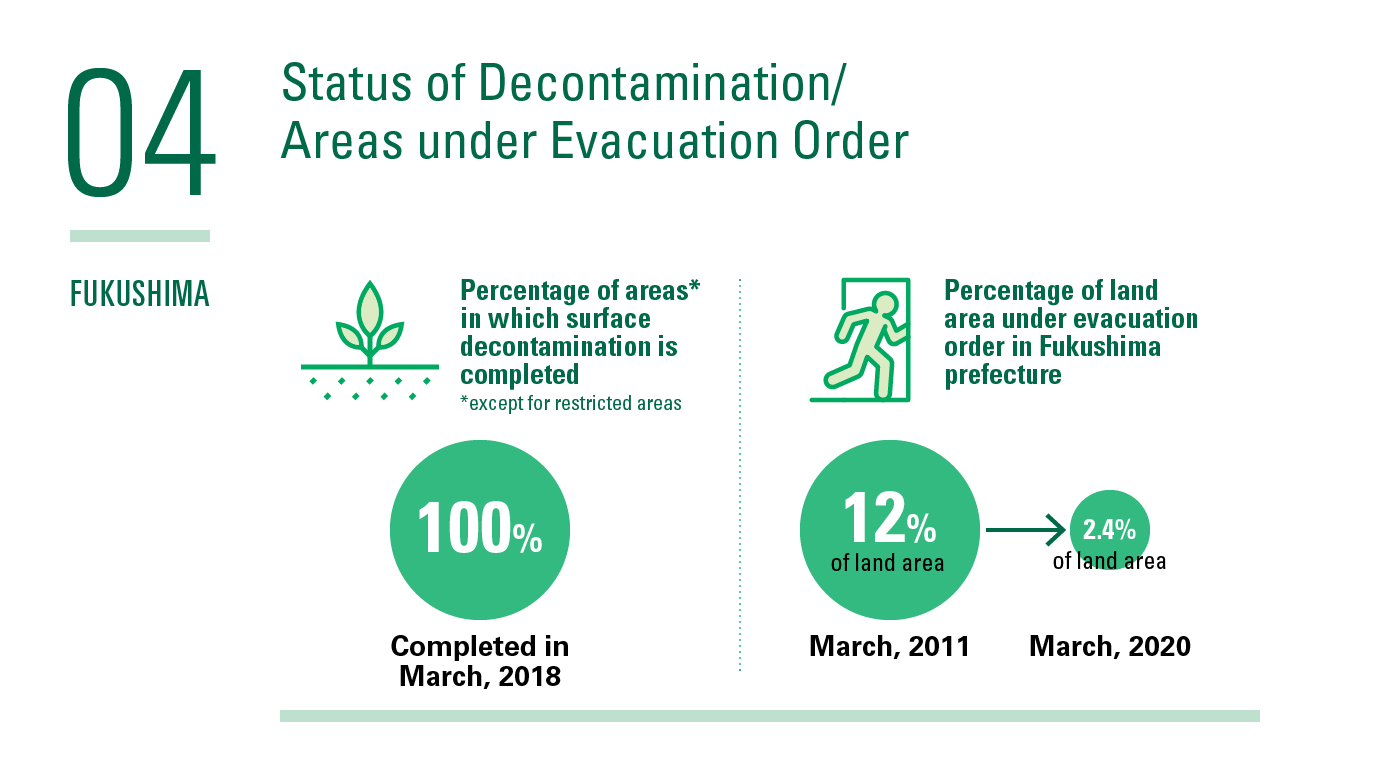 Namie town, which lies just a few kilometres north of the Fukushima Daiichi nuclear power plant, embodies these advances and challenges. The day after the nuclear accident, Namie's mayor evacuated all 21,000 residents. Only in 2017 were the evacuation orders for central areas of the municipality lifted and residents allowed to return. Even to this day, 80 per cent of Namie's land remains in restricted areas.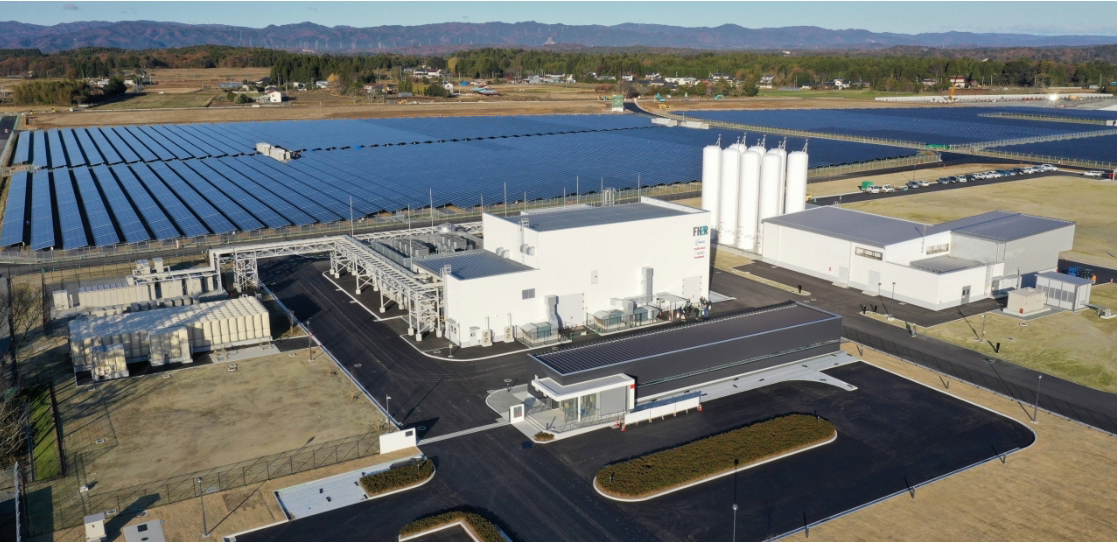 Despite these difficulties, Namie does not lack in energy or hope.
The town is one of the centres of the Fukushima Innovation Coast Framework, a national project designed to build a new industrial infrastructure in the Hamadori coastal region. The Framework, promoters say, involves "initiatives on decommissioning, robotics, drones, energy, environment, recycling, agriculture, forestry, fisheries, medical, and aerospace industries."
The 49-hectare Tanashio Industrial Complex in Namie, an area formerly designated to site another nuclear power plant before the disaster, houses these world-class projects.
One of these is the Fukushima Hydrogen Energy Research Field (FH2R) completed in 2020. The 10MW plant – the world's largest – produces hydrogen by utilising electricity generated from solar panels around its perimeter. The site is currently a technical demonstration project established by the Ministry of Economy, Trade and Industry (METI) and the New Energy and Industrial Technology Development Organization (NEDO). Namie is working in partnership with government bodies and individual companies to innovate ways of creating, storing and using hydrogen energy.
"By creating a hydrogen supply and value chain to achieve hydrogen energy self-sufficiency in Namie, we hope to send a strong message about transitioning away from nuclear power and become a pioneer model for a hydrogen society," says Yoshiki Sato, deputy mayor for the town.
The town plans to use hydrogen energy in public facilities and cars, test the transmission of hydrogen over cables on poles rather than pipes, and develop a system of delivering hydrogen fuel in cassette form to households.
Innovative reconstruction
Another cutting-edge initiative at the complex is a runway for testing drones. The runway is part of the Fukushima Robot Test Field in Minamisoma town 13 kilometres north of Namie. The R&D facilities, one of the largest of its kind in the world, are used to test and train "ground, maritime, underwater and aerial robots used for logistic, infrastructure inspection and large-scale disasters," according to the promoters.
Beside the hydrogen and drone sites is the Fukushima Advanced Manufacturing Center for Laminated Timber (FLAM). The facility, one of the largest in Japan, can manufacture advanced laminated timber, mainly large sectional timber for non-residential buildings. One potential future use for the timber is a redevelopment project of Namie's central area around its station.
"We decided to ask world-renowned architect and designer of the Tokyo Olympic stadium Kuma Kengo, who is famous for his wood architecture, to work with Namie in redesigning the town centre," says Sato. "He was particularly attracted to the idea of creating a sustainable energy town that reflects its traditions and culture."
Another cause for hope is the re-opening of the town's fishing port last year. Though the number of boats going out to sea is less than a third of those before the disaster, seeing fresh fish caught locally has strong symbolic value for fishing communities in the northeast. The recent news of a young fisherwoman at Namie's port amid aging fishermen and shortage of successors has also been happy news.
Although the population of Namie is still a fraction of that before disaster struck, the town is also brimming with ideas to entice new and former residents. One such measure is a plan to provide smart mobility services using automated electric vehicles. Together with an auto maker and other companies, the town is testing on-demand transport with simulated automated driving to help locals, especially older ones that cannot drive, to get around.
"We decided to take advantage of the fact that the population has shrunk and there are many empty lots in town which make it an ideal field for testing new technologies," says Megumi Nakatsugawa, at the general affairs division of Namie. "Hopefully, people will be drawn to these innovations, leading to bustle and growth."
Future of Fukushima farming
Such innovative approaches towards reconstruction abound in the broader region. Take agriculture.
"Agricultural land which suffered damage from the tsunami, we established disaster-protective groves," says Kazuyuki Toshiro, at the agriculture, forestry, and fisheries division of the Fukushima prefectural government. "Faced with fewer farmhands, we consolidated plots into large ones. We are also testing all kinds of labour-saving smart farming technologies, like robot tractors, especially in the Hamadori area."
The prefecture is also actively combatting the reputational damage caused by unfounded fears about radioactive contamination of products from the region. Moreover, all produce and catch in the region have been monitored extensively for radioactivity since the accident. In 2020, some 14,424 cases of 475 food items were monitored for radioactivity and none exceeded regulatory limits.
Yet Fukushima products continue to suffer a price discount, albeit a diminishing one. For example, Fukushima peaches are some 15 per cent cheaper than the national average. Of the 55 countries and regions which imposed import control measures of produce after the nuclear accident, 41 have abolished the measure. Last year, the United States completely lifted such restrictions on food from the region, followed by the EU easing such restrictions. Elsewhere, exports of Fukushima produce, mainly rice and peaches, have nearly doubled from pre-disaster levels, driven by strong demand from Southeast Asia.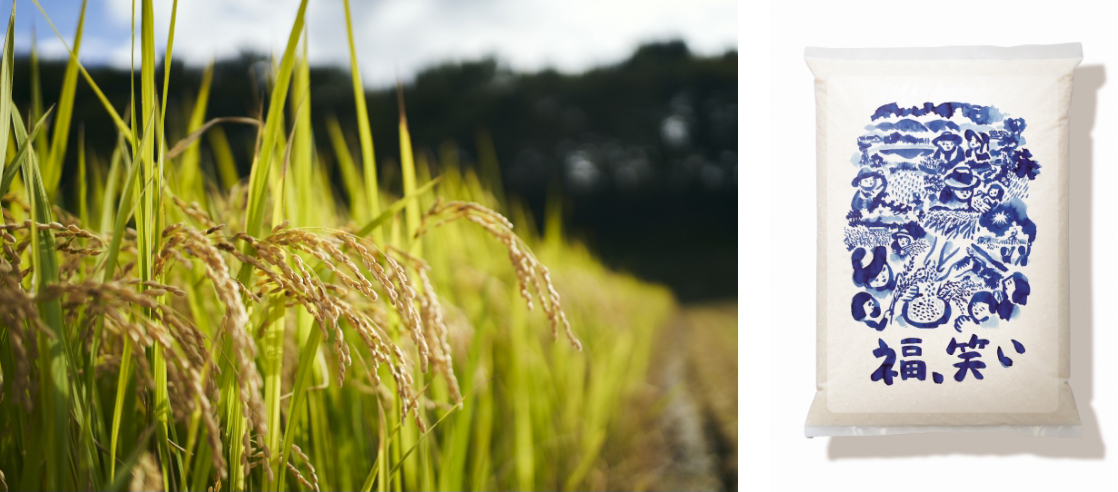 The prefecture has also been busy promoting its brands such as its newly launched premium rice "Fuku, warai". The launch of an online store for Fukushima produce, which marked record sales last year, has also raised awareness of the quality of local produce.
Along with fighting reputational damage, Fukushima is also trying to keep alive memories of hard-won lessons from the disaster. In fact, the prefecture has just such an office – "Harmful Rumours and Fading Disaster Memories Countermeasure Policy Unit" – for the tasks.
One strategy is to promote tourism for visitors domestically and abroad to experience attractions of the prefecture– from its rich cuisine and produce, historical spots and scenic beauty – but also for visitors to learn about the disaster and ongoing reconstruction. This is the goal of "Hope Tourism". The prefecture offers tours to facilities such as museums, memorials and facilities like elementary schools damaged by the tsunami, as well as sites of industrial revival.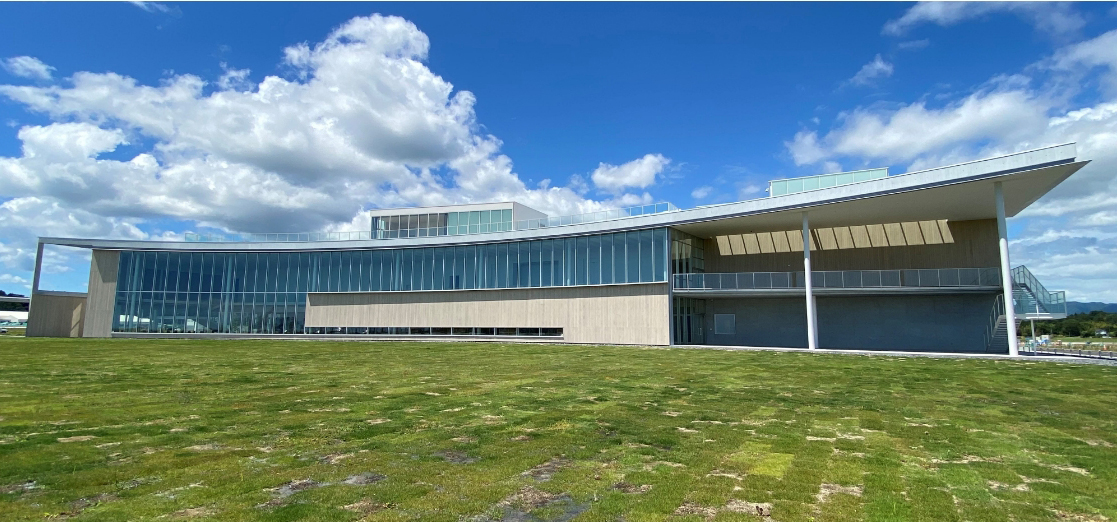 "There are no clear targets to determine when reconstruction ends," explains Kiyotaka Yamada, at the Revitalization and Comprehensive Planning Division of Fukushima prefectural government. "That end-goal is and should be diverse, up to each individual. But one official definition of reconstruction is to make conditions better than before the disaster."
Ten years hence, progress towards this goal is undeniable. So too is an unflagging energy to push forward at the frontiers of reconstruction. The region welcomes you warmly to come and see for yourself.
This content was paid for and produced by Reconstruction Agency in partnership
with the Commercial Department of the Financial Times.